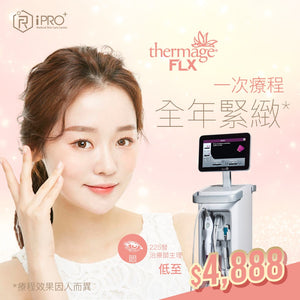 SSTeshop
Thermage FLX Eyes Treatment 熱瑪吉眼部225發 治療師主理 $4888
Regular price
$4,888.00
Sale price
$9,800.00
Unit price
per
此優惠針對眼部,可明顯改善:
可選擇於不同分店進行療程:
- 中環德己立街1-13號世紀廣場13樓
- 尖沙咀麼地道22-28號中福商業大廈16樓

此優惠只適用於新客戶。此優惠為治療師操作。
立體加熱,3D環迴收緊,並非只針對收緊單一深度皮膚
條款及細則
1.以上項目適用於修身堂及iPRO並年滿十八歲以上的新客戶購買
2.如要享用以上項目,必須先出示身份證明文件登記成為會員
3.以上優惠只適用於1人購買1次
4.優惠有效期至2023年9月30日。使用期限由購買日起計半年內有效。
5.客戶進行療程/服務前,應清楚並同意本公司所安排之療程/服務及内容
6.所有療程均需提前進行預約
7.如有任何爭議,修身堂及iPRO將保留最終決定權
 ------------------------------Eng Version-------------------------------
How does Eye Thermage work?
Thermage® FLX uses radiofrequency technology to heat the deep, collagen-rich layers of the skin. This gentle heating tightens existing collagen and stimulates the production of new collagen which is followed by gradual collagen tightening. The result is a more youthful appearance to loose and sagging skin.

Key benefits:

    Tightens & contracts sagging eye area skin
    Lifts brows and opens eyes
    Improves fine lines & crepey skin
Select Store:
16/F, CFC Tower, 22-28 Mody Rd, Tsim Sha Tsui
13/F, Century Square, 1-13 D'Aguilar Street, Central
#This offer is only suitable for Sausantong's new customers. This treatment is operated by therapist.

Free Gift: DNA Skin Test
Terms & conditions
1. This offer is only suitable for Sausantong's new customers above age of 18 years old.
2. To enjoy this offer, registration with personal ID is required.
3. This offer can only be purchased one time by each customer.
4. The offer is valid until Sept 30, 2023. The validity period is 6 months starts from the date of purchase.
5. Before taking our service, customers should be clear to the service content.
6. Reservation in advance is necessary.
7. In the case of any disputes, Sausantong and iPRO reserve the right of final decision.

---